20 WordPress Plugins for your Sidebar
The sidebar of your WordPress site is one of the key points of your site. It is not difficult to imagine, after all, when a person will view a page of your site, there is very likely that the latter is at least composed of a sidebar. You will discover in this selection, 20 plugins that will help you present your sidebar, or will allow you to add new items to it. There will also plugins that are not strictly speaking plugins for your sidebar, but more will come in addition as plugins to handle notification areas. I hope you enjoy reading my article on 20 WordPress plugins for your sidebar. [su_box title="Le Meilleur Plugin Multilingue pour WordPress" style="soft"] Looking to set up a multilingual website with WordPress? Then look no further the ideal plugin with WPML, you get access to the very best in multilingual plugin for WordPress. A true multilingual administration interface mode, separate content for each language, redirecting visitors to your content in their language, a specialized interface to provide access to your site to a translator, an advanced management of your WordPress menus Multilingual mode, the ability to have different content from one version to the other, no doubt, WPML is what is done best in the world of multilingual WordPress. We use WPML WordPress for all projects we do, and would recommend to all!
[/su_box]
01 – Theia Sticky Sidebar, Sidebar WordPress Plugin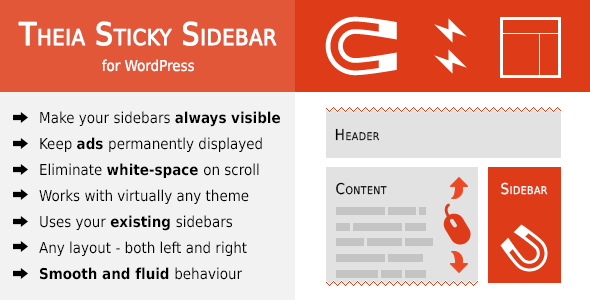 Begin our plugin for your sidebar by selecting a plugin that I was immediately much its concept. The idea is super nice, make a part of your sidebar always visible. This happens when a user is going to read one of your pages, and it will go down to its content, generally, you have an empty right or left is going to create. Obviously, the length of your content is variable. It is virtually impossible to make a sidebar that will be exactly the right size for your content. Theia Sticky Sidebar makes this possible by allowing you to ensure that at the end of your sidebar, it is always visible. You will feel your sidebar will remain stuck.
This is perfect when you want your users to have before you a specific part of your sidebar as an advertisement area before the commissioning of your benefits, or anything you deem appropriate to put forward as many registration for a newsletter, or the sharing features on social networks for example.
An advantage of this plugin is that there will be no need to change the theme or need to create a new sidebar box. Indeed, this plugin will work without worrying about all this.
02 – Advanced Text Widget Pro, WordPress Sidebar Plugin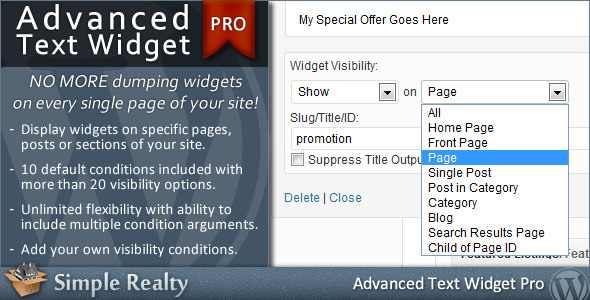 Download Advanced Text Widget Pro
Come on, keep playing with our WordPress sidebar. Advanced Text Widget Pro although his name indicates that this is a formatting text widget, goes further by allowing you to create conditional widgets. The idea is that you can determine where the widget you set appear. Convenient to prevent you from having a sidebar widget with a long list as the arm. In addition, it is of great use for those with a theme that does not support multiple areas of widgets. In fact, even for those with multiple zones, this plugin will not settle or not to display a widget in the sidebar. He'll be possible to determine if the widget will appear on all your wigets areas, even those in the footer for example. As it is possible to create display conditions, you can define, for example that a particular widget will appear only in the blog section of your site, or on the home page. If the conditions given to you by default are not enough, and you control a little PHP, you will then be possible to define an infinite number of terms.
In addition, this plugin will allow you to directly enter your PHP code in widgets, or insert shortcodes in them. Your widgets are provided for or not.
03 – Top Stories, WordPress Sidebar Plugin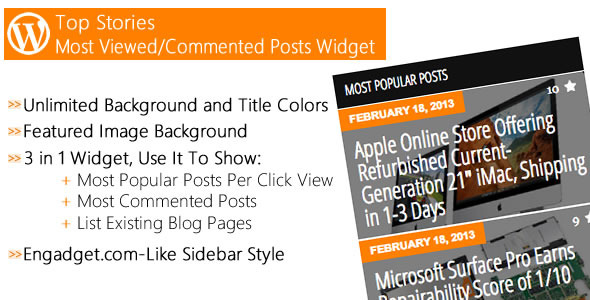 The last time a student asked a question to highlight items of his blog in some way. He worked on the theme [clink id="95" target="_blank" rel="nofollow"] The7 [/clink] And he wanted there to be a picture on the background of the latest articles, and he wanted to move this element in its homepage. Problem The7 did not offer this functionality natively.
I do not yet know the plugin Top Stories, otherwise I would have advised him to try with this plugin because it seems to do exactly what he was looking for, insert background image of a section. The result is pretty cool. In fact, it seems that the idea for this plugin came from the fact that the designer of this plugin has wanted to reproduce what he saw on the site of Engadget .
If default WordPress offers a widget to your sidebar that allows you to highlight your content, it must be admitted that this plugin is more fun for your sidebar.
04 – Vaquita, WordPress Sidebar Plugin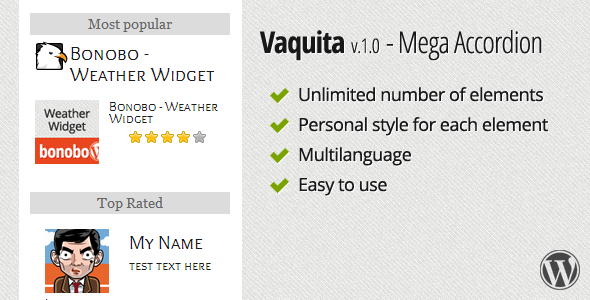 No need to long description for this plugin that will fit in your sidebard. Indeed, it will allow you to generate areas of widgets that work as accordions.
05 – Banner Rotator, WordPress Sidebar Plugin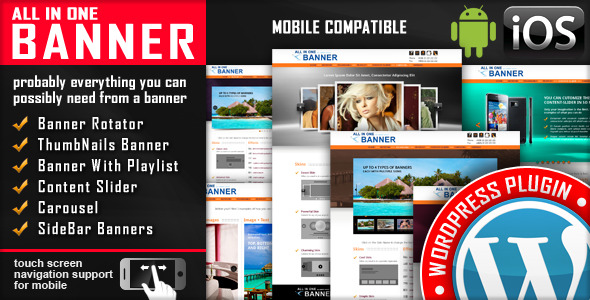 Ok, this plugin is not really speak to that a plugin for your sidebar as it is primarily a WordPress plugin designed to allow you to create sliders. Warning, this plugin is not to be compared with [clink id="69" target="_blank" rel="nofollow"] Revolution Slider [/clink] or [clink id="70" target="_blank" rel="nofollow"] Layer Slider [/clink] Because the latter two are primarily allow you to create sliders with parallax effects types. Banner rotator is different in the sense that it makes it more simply, while giving us the ability to customize the well. This plugin will, by default, offer you five types of slider, which in addition have the possibility to be nested within each other. To understand, I invite you to discover the demo version of this plugin.
If this WordPress plugin is found in a selection of plugins for your sidebard fact is that it will also allow you to insert banners, sliders or directly into your sidebar, and it very easily.
06 – Collapse, WordPress Sidebar Plugin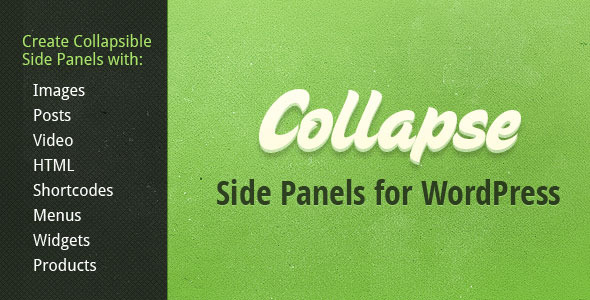 If this plugin is not directly a plugin to insert into your sidebar, it remains a sidebar plugin, except that this one will you create a sidebar. Unlike conventional sidebars that lie directly in your content area, it will create a panel that will be attached to the right or left of your site. In addition, this area will be slideable or draggable. Namely it can be folded or unfolded, depending on what you set, or what your users decide.
It will be possible to insert inside this new sidebar, anything you want it to be your widgets, HTML, videos, articles, pages … See for yourself!
07 – Player Spotify, WordPress Sidebar Plugin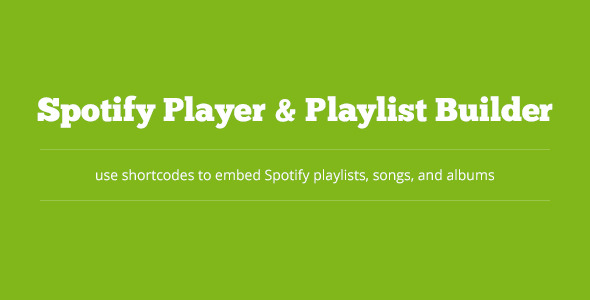 Spotify is a music streaming service in many popular streaming, direct competitor to Deezer . If you're a fan of this service, then there is a good chance that you wanted to share with as many of your playlist. To do Spotify player is a good plugin as it will enable you to simply integrate a sidebar end music player Spotify service.
08 – Table League WordPress Sidebar Plugin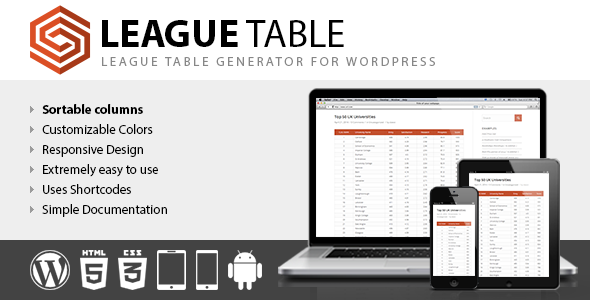 You are a fan of sport and you love statistics? So League table is for you. League Table will allow you to create statistical tables of all kinds. In fact it is not even book to sport, because if you have statistics to be published, then this plugin will make your task simpler. Of course, it will be possible to place these statistical tables in your sidebar, because all table thus obtained are responsives!
It is certain that this plugin is very specific, but that's what makes the beauty of WordPress, plugins offer for all tastes and all needs.
09 – Themwitch, WordPress Sidebar Plugin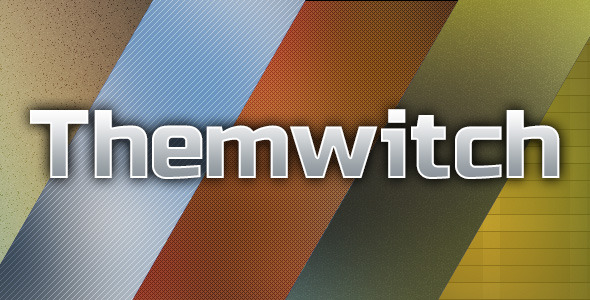 At the time of responsive, we tend to believe that this is the only real solution to manage both mobile interfaces as desktop computers. This plugin takes the foot against this way of seeing things by allowing you to highlight a specific topic based on what your WordPress site will detect as a platform connecting to it! In addition to allowing you to change the theme, this plugin will allow you to manage sidebars that are different from one platform to another. It therefore goes a little further than just responsive theme, and could be an interesting solution for you to better manage the various terminals that connect to your site. Let's face it, a responsive theme, it's less work, but the ability to choose which theme to load based on the detected platform is to ensure a better result in the end.
10 – SocialFans, WordPress Sidebar Plugin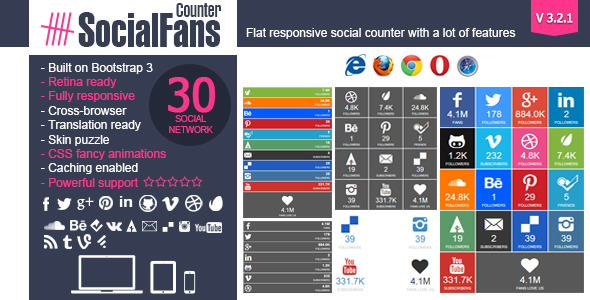 Well, my gut tells me, with a name like this, there is not much doubt about what will allow you to do this plugin. And you would be right in thinking that SocialFans is a plugin … is for you to highlight social networks on your WordPress site. In fact, this is far from the only WordPress plugin to do this kind of thing, so why this plugin he was sold several thousand times? Just because SocialFans goes far in what it offers. Already, it will allow you to manage more than 30 different social networks. Of course, Facebook, Twitter, Google+, Pinterest and Dribble are in the game. But one could also mention the lesser known as VK, Forrst, Behance, AudioBoo or FeedPress.
In addition, this plugin was designed from BootStrap 3 to ensure a seamless and responsive quality.
11 – Social Sprites, WordPress Sidebar Plugin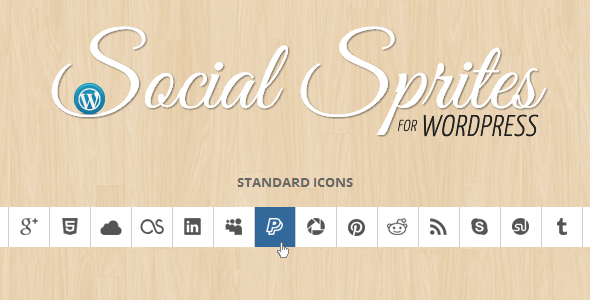 Continue this plugin selection with Social Sprites. Another plugin for social networking? Yes … but it incorporates the sprites. If you do not know the sprites, the idea is to allow you to send a single image, and according to your use, display different parts of the imagine using CSS. It's a great way to minimize the overall loading time images as only a call is required to load the assembly.
For this to work, it is necessary that different bands images were generated, and this is what Social Sprites will offer you by allowing you to load several different models.
12 – Careers WordPress, WordPress Sidebar Plugin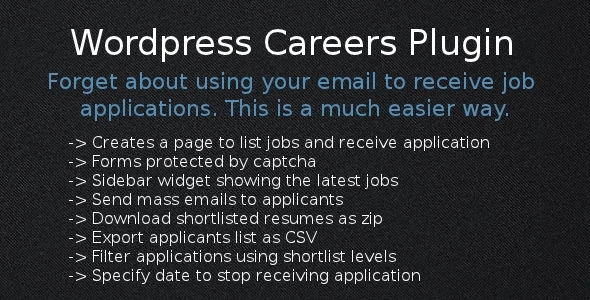 When I see some plugins, which I compare to what we have been led to WordPress as an agency, I would certainly say we saved time to use everything plugins. And this is the case with WordPress Careers, which allows us to manage announcements for work. This plugin will let you, as a company that recruits, you can publish small ads work directly on your site. This is a nice feature for several reasons. Already, no need to publish the advertisement on a third site because you can do it directly on your site. In addition, it shows your visitors, and why not your future customers that your company is active and in the face of development, which tends to reassure.
Of course, this plugin will allow you to create a particular widget that you can place directly into your sidebar. This will be the list of vacancies. So, for you to decide where those ads will be visible.
13 – Advanced Social Widget MailChimp Edition, WordPress Sidebar Plugin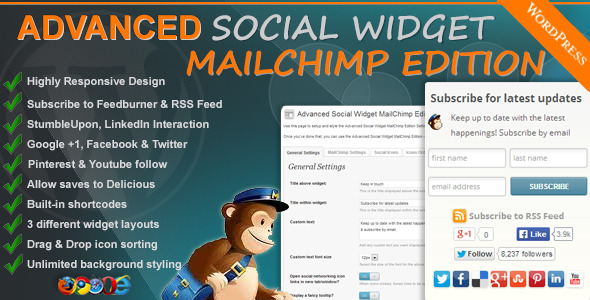 Download Advanced Social Widget MailChimp Edition
Ah, compatible with plugins [clink id="21" target="_blank" rel="nofollow"] WPML [/clink] I tend to worship them, because I love WPML the only true translation plugin and multilingual site in my eyes for WordPress. Ok, so Advanced Social Widget MailChimp Edition is compatible with WPML and it will allow you therefore to put your social networks, while having all the content in the right language. But the real plus is that it will be possible to set the language variable when your users will subscribe to your newsletter and that's really handy to be able to make targeted newsletters on the tongue, creating segments with [clink id="46" target="_blank" rel="nofollow"] MailChimp [/clink] .
14 – CouponChimp, WordPress Sidebar Plugin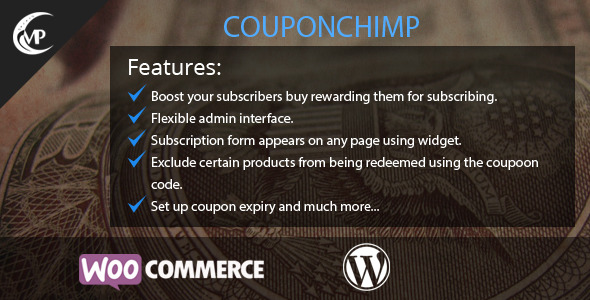 Mixer power MailChimp with WooCommerce is simply a great idea. This plugin will allow you to reward people signing up for your newsletter in their bidders discount coupons on your newsletter. A great way to maximize the number of subscribers to its newsletter. This plugin would also be in our tickets on the best WooCommerce extension . But it is a pity to see that this plugin has very few sales, it deserves much more! The idea is very good lorqu'on knows his newsletter is one of the best ways to increase its revenues regularly. And in addition, the newsletter is what still has the best return on investment. This is not a joke, the return is 40 for one! Or in other words, you invest one euro, 40 euro and you reap!
15 – Notification Bar Plugin, WordPress Sidebar Plugin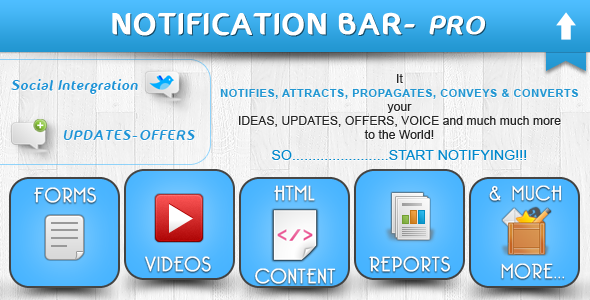 Notification Bar Plugin Download
Notifications bars are a little different from sidebars, but we could still assimilate them as being of the same family. The idea of ​​a notification bar is to be visible, so as to attract the attention of your visisteurs. The best is to inform visitors about something very special as a promotional action taking place over a short period, or to highlight a particular service. For example, say you were holding a technical blog, and in fact your real activity is training. Then this notification area or system tray, call it what you want, you will highlight the fact that you do training in this area.
16 – Who's Online 5sec, WordPress Sidebar Plugin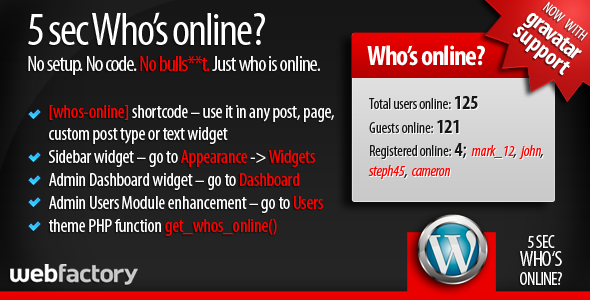 If there is one thing that the web has accustomed us to see in the sidebars, those are the people meters and people currently connected to a particular site. Although I must admit I'm not a big fan of this kind of functionality, it at least has the advantage of not feeling alone on a website.
This plugin will let you get to this result, in the sidebar by displaying the number of currently connected and if in addition they are registered users, then you will even have the opportunity to have the person gravatar currently on your site. More nice to not feel alone!
17 – WordPress Ad-Manager, WordPress Sidebar Plugin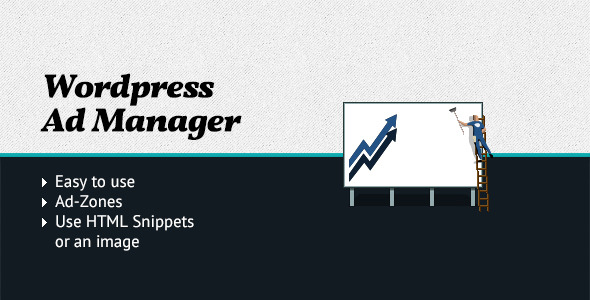 If I told you previously that the internet sites we were used to seeing things in the sidebar, in fact advertising should pick up the pompom! Because the pub sidebar is the most commom. But how do you manage pubs when under WordPress? Using WordPress Ad Manager course;)
The management is very simple, configure your advertising through custom post types and insert the shortcode obtained where desired, particularly in the sidebar!
18 – Better Recent Comments, WordPress Sidebar Plugin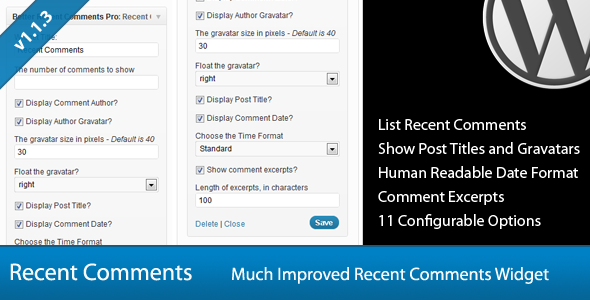 Download Better Recent Comments
Still a classic in the world of the elements that are found regularly in the sidebars, I named the comments! As this type of widget is proposed by default in WordPress, it must offer more premium plugin. And that's what he does for us to have more than eleven different ways to configure, also allowing us to have as many instances as you want in the same sidebar.
19 – AdFly Rotater, WordPress Sidebar Plugin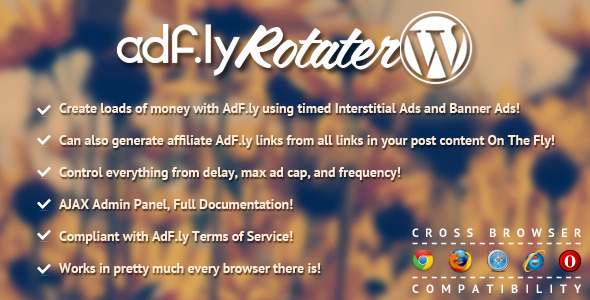 And yes, it would have been surprising not to find a single plugin that allows us to manage the ads in a paper on plugins for WordPress sidebars, so advertising is a recurring element of sidebars.
Here, this plugin focuses on a well known advertising, AdFly!
20 – Advanced Floating Content, WordPress Sidebar Plugin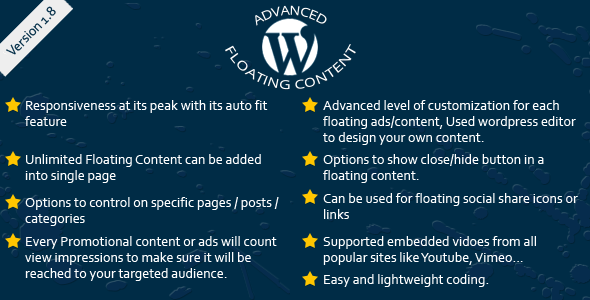 Download Advanced Floating Content
To complete this selection of WordPress plugins for your sidebar, small clien look at the very first plugin that we presented since this plugin will also allow us to manage areas that will always be visible to your users. The big difference between these two plugins is that it does not integrate directly into your sidebar, but just create a new zone to the left and right of your content.