20 WordPress Plugins Taking Appointments
Use your WordPress site to make an appointment? It is quite possible, but it still must have the right plug to hand. That is why I propose you to discover a selection of 20 WordPress plugins appointment socket. But why set up a plugin making appointments on his WordPress site? The cases are actually quite numerous. It all depends on his profession, but if you are a doctor, hairdresser to the head, a spa, you are sports teacher, personal trainer, lawyer, electrician, plumber, glazier, accountant, therapist, washer car, housekeeper, chef … Our selection of WordPress plugins taking appointment is just for you. You will discover reservation plugins that allow you to online calendars, plugins to pay now thanks to PayPal, but also plugins that synchronize with other services such as Google Calendar. Or much more specialized plugins depending on your business, and your business need. I propose not to wait to discover our selection of 20 premium WordPress plugins appointment outlet.
01 – Booked, WordPress Plugin Taking Appointments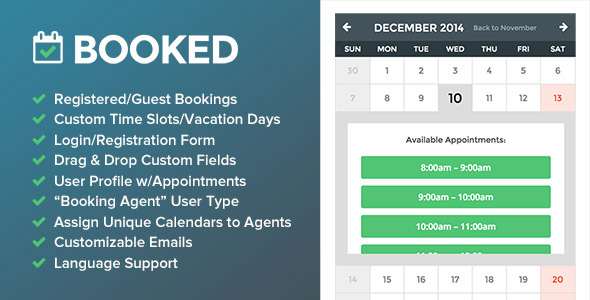 Begin our selection plugin making appointments for WordPress plugin by both simple and powerful. The concept of this plugin is quite simple at first glance, but this is what makes its appeal. After all, what could be nicer than a simple plugin, which makes it well why it was done! The purpose of this WordPress plugin, allowing us to display a calendar on our WordPress site. This schedule will allow two things:
See our availability
Allow appointment outlet.
This plugin is both convenient for you because it can be used as a professional calendar, but also by your customers who will use it to make an appointment directly with you. Two types of users are going to use it. Registered users on your site, which will thus have an account, and unidentified customers, so its account creation. In addition, this plugin not only allows you to manage a schedule, but many. So if you have multiple people in your business who can make appointments, you can still use this plugin. It also will be possible for you to customize your calendar to come, both in terms of your availability, as its display. Side view, you will be able to play on different colors. And by the way, rendering is responsive, so this plugin can perfectly integrate into a site Responsive WordPress . A real advantage from a design point of view and especially for all your mobile users. Listed customization of the calendar, you will be able to indicate the days you do not work, or schedules that you are not available.
02 – Booking Team, WordPress Plugin Taking Appointments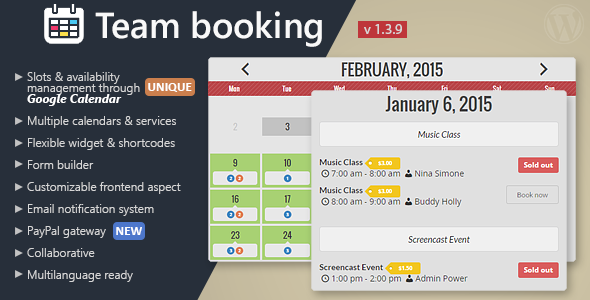 Here is an appointment-making plugin that does not do things by halves. Indeed, you will see that its designer to put the dishes in the large. First thing, while the majority of plugins require you to go through the WordPress management interface, it assumes that it is reinvented the wheel, and that after all, excellent services exist to manage its calendar … Google Calendar! You will therefore understand, the theme connects directly to Google Calendar. Everything you do on Google Calendar will impact so directly on your WordPress site. No need to connect to your management interface to manage it.
From the point of view taken rendezvous, customers can of course make an appointment directly through this plugin, but in addition, they can also pay directly. Indeed, Paypal is directly included in this plugin. And even harder, you get access to very detailed statistics of your bookings on the time period you want.
An emailing system is also thought to this plugin, providing the ability to manage real transactional emails to your customers.
From a usability standpoint, this plugin is naturally responsive. Essential point to be certain that even customers from a mobile interface can book directly on your website.
If you want to have a multilingual site, this plugin will allow you to get there, and work with [clink id="21″ target="_blank" rel="nofollow"] WPML [/clink] .
03 – Appointkart, WordPress Plugin Taking Appointments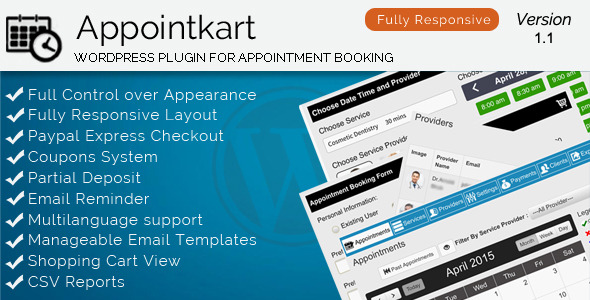 The name of this plugin is not chosen by chance, and it is understood much better when we know exactly what it does. The idea is that your appointment making plugin, and for you, more than a plugin to make a reservation with you, but it must be seen as an element in an ecommerce site that would sell so working time. The idea is quite ingenious because thanks to him, no need to install another plugin to manage the ecommerce part, he does it for you. Indeed, in addition to a part making appointments, you will also have a cart on your site, and an order form. As a true ecommerce site.
Note also three very interesting things. The first is the ability to pay only part of decision-appointment right away. Indeed, there are sectors where it is not legal or not possible to pay the full when we take an appointment. I think for example in training. This plugin will allow your future customers to pay only part of the benefit for the book. Once it has been completed, you can then make you pay overall. The second interesting things is that your WordPress site can send email reminders to be sure that the person does not miss his appointment with you. The third possibility that I really like is the ability to make a CSV export of all statistics collected by this plugin.
I just told you that you will be able to charge your customers a part of the price at the time of booking. Who can do more can do less, it's also possible to pay all at once. Moreover, the payments take place through PayPal Express Checkout.
A plugin to watch closely!
04 – Booki, WordPress Plugin Taking Appointments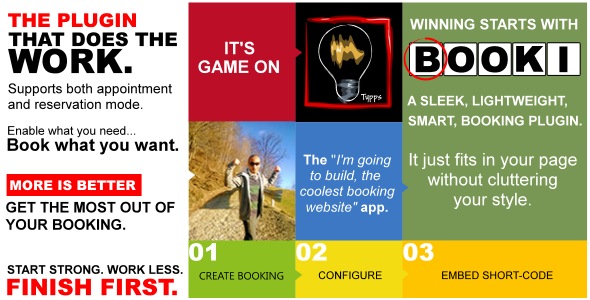 Well, frankly, the image of this plugin is rotten, and it completely dessert because we are dealing here with a plugin that has more than one trick up his sleeve. In fact, I find that, until now, it is a plugin that offers the most features. So if you are looking to book a plugin that do a lot, read the following.
Booki aims to be a comprehensive plugin for making appointments and booking for WordPress. It comes along with a lot of options like the ability to sync much done calendar with Google Calendar as you like, but also the possibility to define projects to better manage your calendars, define service providers you your rattacherez calendars, or the ability to manually approve any reservation request. And that's just the beginning. You can set up a payment system to complete the reservation is made, but also customize all the fields, or even define time periods during which your prices will be expected to vary, for basic and high season for example.
I think this type of plugin is for two types of very different people. On one hand, this booking plugin will apply to all persons wishing to an online calendar, in connection with their activities. And on the other side, this plugin will be perfect to be a booking platform. By booking platform, I mean that your site will be an intermediary between the customer and professionals.
You will also be possible to complete reports at both calendars, as reservations made. I said, do not be fooled by the picture of this plugin, it is full of resources!
05 – Booking System Pro, WordPress Plugin Taking Appointments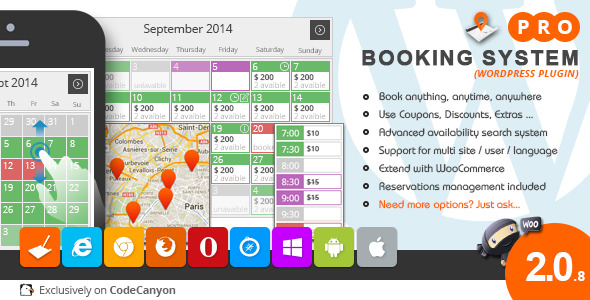 This appointment making plug adopts another manner of operation than others, particularly as regards the part ecommerce. Indeed, while other plugins from our selection of 20 plugins making appointments develops the entire ecommerce partly linked to this type of plugin, Booking System Pro will leverage the most famous ecommerce WordPress plugin , namely WooCommerce. Thus each calendar you create will turn into manageable produced by WooCommerce. I find it very interesting concept, and above all, it's to take some time to work to the developer. And for making our calendar true WooCommerce products will allow us to manage all our site as a product and allow customers to treat them with the same options. Thus, they can put it in the cart, promotions apply it, and do whatever they do with real products. It is not for nothing that this plugin to a number of impressive download!
The administration interface of this plugin just seems impressive, made entirely in ajax, for us not to have to reload all every click into our schedules. You will also be possible to define options when making appointments by your customers.
And in terms of the payment, as the plugin is based on WooCommerce, whatever the payment system set up on your site, it will be possible to pay with your customer for his reservation.
Of course, this plugin is fully compatible with [clink id="21″ target="_blank" rel="nofollow"] WPML [/clink] to allow us to manage a real multilingual booking website with WooCommerce.
06 – WP Booking Calendar, WordPress Plugin Taking Appointments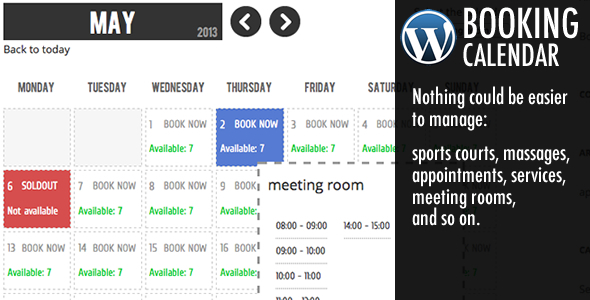 Not looking for a plugin making appointments for WordPress too complex, and that it is connected with WooCommerce does not interest you? While Booking Calendar is a good candidate for you. The idea is to provide an easy to use plugin, and simple implementation.
Well, simplicity does not mean lack of functionality, far from it with this WordPress plugin. Thus, you will of course be able to create as many calendars as you like, with the option to assign them to as many people as desired. Each calendar can be configured to reflect your availability. From a user point of view, this reservation system will allow it to simply check availability by passing the mouse on the desired date, but also to redefine the time range displayed by the week or month, or make several bookings at once.
For the administrator of this tool appointment decision, it will be possible to customize the number of reservations per can, to set apart each calendar, set the days of openings and closures, but also to put in place or not a CAPTCHA system to limit spam on your site. You will even be possible to set a minimum time before the reservation is available. This will allow you to avoid such a person take an appointment for the next day, while your profession obliges you to do him a file that takes at least a day for example.
Available for over two years, this plugin is updated regularly, which is a good sign for the future.
07 – Bookly, WordPress Plugin Taking Appointments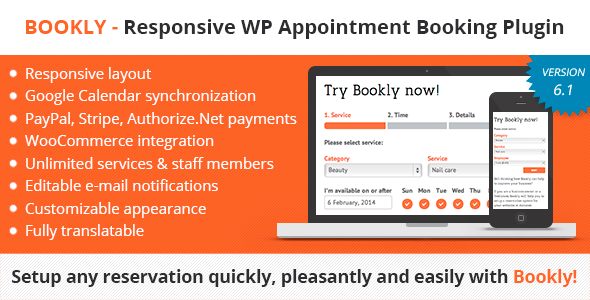 This plugin has just one year at the time of writing this post about 20 plugins taking appointment with WordPress, and yet he already knows a frank success. Indeed, he walks on the flat strips of Booking system pro, for he also offers to connect with WooCommerce, even if the concept is different, we will see that. Incidentally, this plugin is frequently updated because it has already experienced more than 6 major versions in just one year. It is almost certain that this plugin will continue to offer more and more features in the near future.
What is very interesting with Bookly is that although it uses WooCommerce, he does not at all the same as Booking System. While the latter was a product of each calendar strictly speaking, Bookly proposes a radically different view. It will rely on WooCommerce, but only to allow us to use the payment part. Indeed, all the rest is managed directly by this plugin, including taking part appointments, which integrates directly with the checkout section of our site. I find this very interesting approach because our client finds himself immediately took our conversion tunnel. No need to go through the carriage step. And we know, the more the conversion tunnel is simple, more sales we make on our ecommerce site.
In addition, we have the right to a real administrative interface that will allow us to customize all of the plugin, the graphics rendering part calendars, to the portion of the form fields for our customers. It will also be possible to offer the possibility to cancel a hold of appointments made directly on your website with this plugin.
This plugin also offers numerous features that I invite you to discover for yourself by clicking the button above, otherwise I would have to do an article on this in its own plugin so it is rich in functionality;)
08 – WordPress Events Calendar Registration & Booking, WordPress Plugin Taking Appointments
While booking plugins that we have seen so far are rather general, we will begin to discover, through events calendar registration, a somewhat more specialized plugin, because its purpose is to allow you to book a place for a concert, a sporting event, or make an appointment for a training example. And it will give it some peculiarities that we will see together.
To start, this plugin to enable us to reach an audience as wide as possible. And what better way to achieve this than to have a multilingual site? That is why this plugin is compatible with [clink id="21″ target="_blank" rel="nofollow"] WPML [/clink] The only true professional multilingual plugin for WordPress website quality! This plugin does not just support [clink id="21″ target="_blank" rel="nofollow"] WPML [/clink] It even comes translated into five languages ​​are French, Spanish, English, Portuguese and German!
As I tell you, this plugin is specialized in booking and sale of space for the évènemantiel. That is why we find it very specific features such as the ability to create a page that will take all the elements of your event with photos, text to describe briefly here, or a card, and of course, the opportunity to see on a calendar. In addition, you have access to a shortcode list that will insert your events anywhere you want in your WordPress site.
This plugin will be for example, a plugin to hold absoulement if you wish to create a concert ticket booking site, or why not, the site of a group of music and theater, and be able to do promotion on each of the trips.
09 – hbook, WordPress Plugin Taking Appointments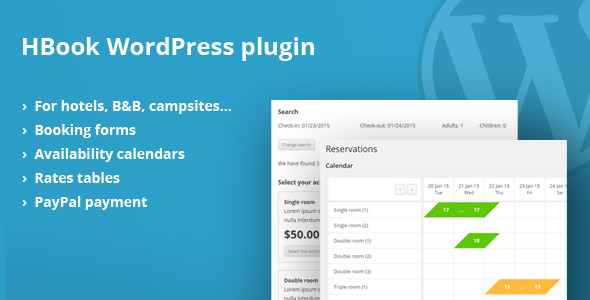 This plugin was primarily developed for hotels, campsites, where everything that can result in a booking. But nothing prevents you to divert and make a perfect plugin to help you manage your appointments taken.
What is nice with this plugin is that you can set up pages from describe what your customers will be able to book. If the idea is to introduce such a room, it will also be perfect for such offer training. So your future trainees will know in detail the training you offer, see your availability and make reservations directly on the same page.
As this plugin is made primarily for hotels, you will find well particulères features like a different price depending on the person who reserves, if it is for an adult or a child, the date, as seasonality in this account field.
And to top it all, this plugin is compatible with [clink id="21″ target="_blank" rel="nofollow"] WPML [/clink] . When I tell you that [clink id="21″ target="_blank" rel="nofollow"] WPML [/clink] is the reference plug-in multilingual website with WordPress, it's not a figment of the imagination when you see how many plugins are compatible with it.
10 – Flip Book, WordPress Plugin Taking Appointments
Well, I have to concede you, this plugin is a bit limited for presentation in this selection appointment making plugins for WordPress. Why? Because there is absolutely no control functionality appointment itself. But why do I tell you this in this selection? Just because I think that taking appointments can also take different forms, and I wanted you to share my views on the issue.
While it is true that a good booking plugin for WordPress, it really is a plugin that allows you to book directly on your site, we can also imagine that the book also involves the desire that one with succite its customers, or by their proposers all what we can do for them. A good way to proceed is to upload a PDF, which takes our advertising brochure. If for example you made of the training, there has very likely that you have this type of document. If you can simply put it online as a link, it still loses a lot of its interest, because your customers will have to download it to find out. With Flip Book, you will be able to put online so that it is easily viewed directly on your site, without having to download it.
Well, it was an opportunity for me to present to you a way to conceptualize the difference appointment outlet. I promise, there are not many plugins in our selection that deviates from that point of what you are legitimately entitled to expect such a selection :)
11 – Event Booking Pro, WordPress Plugin Taking Appointments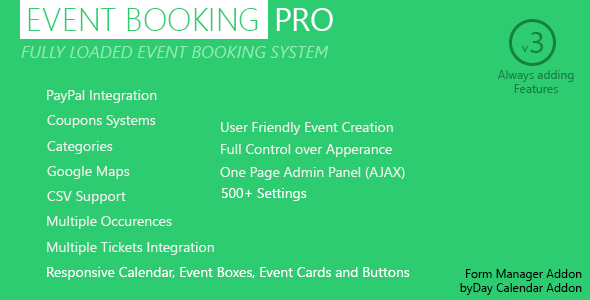 Returning to the WordPress plugins, say less surprising with Event Booking Pro. This plugin is intended to allow you to sell online tickets to physical events such as a concert, a conference, or any type of event.
It will be possible to create as many events as you like, and allow your customers to select several events at one time. Side payment is paypal which is the game, allowing you to set up a simple payment system, and known to all.
Each event will be visible on a calendar. And as your site's loading time is an important element probably hard for you, the lazyload is part of this plugin. If you do not know the lazyload is JavaScript that will allow your visitors to load content that from the moment the item in question will really be displayed on their screens. This is a very big plus, because all that will not be visible therefore not yet downloaded, giving the perfect impression that your site loads quickly. If you also embedded multiple calendars on the same page, the effect will be even more important.
12 – WP Quick Booking Manager, WordPress Plugin Taking Appointments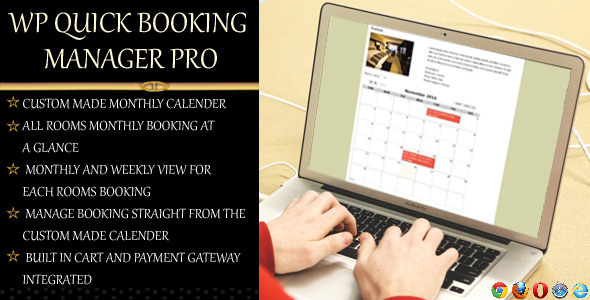 Easy to install, and customize, this WordPress plugin will allow us to implement our website a booking calendar. For improved ease of use when it is accessed from a mobile device like a smartphone or tablet, the whole is responsive. This is a huge plus when we know that even on Google, mobile interfaces are more connections than our old computers. Not having a responsive interface, is like disappearing more and more in the eyes of our users. So why not take this into consideration at once, and select the plugins that are able to manage responsive throughout its website.
This plugin will allow you to set up a reservation system for anything that can be booked online. Your customers will have access to a calendar, and this plugin does all the order taking process.
And you know what, this plugin manages perfectly with multilingual … and yes, media [clink id="21″ target="_blank" rel="nofollow"] WPML [/clink] You guessed it!
13 – WooCommerce Bookings CSV Export Plugin WordPress Taking Appointments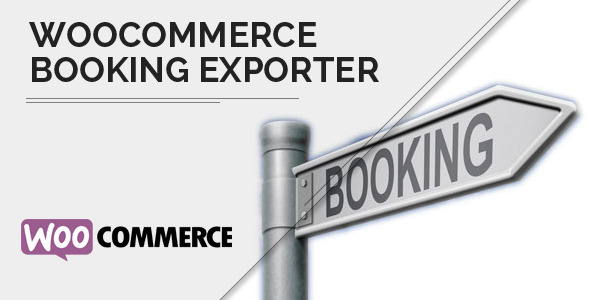 You use the plugin WooCommerce Booking home WooThemes? Then I will present a nice little plugin that will allow you to add a very useful feature, the ability to make a CSV export of all your shots go through this plugin. There is no more to say of this plugin, simple and does what he says.
14 – Event Booking Pro: Forms Manager WordPress Plugin Taking Appointments
The eleventh plugin that I presented, was Even Booking Pro. Here is a plugin to increase its capacity. We can say that it is a plugin plugin for making appointments on his WordPress site. Well, the real term is add on. So this add on will allow you to manage more finely the fields to enter when making an appointment with the Event Booking plugin.
15 – Event Booking Pro: Checkin & Analytics, WordPress Plugin Taking Appointments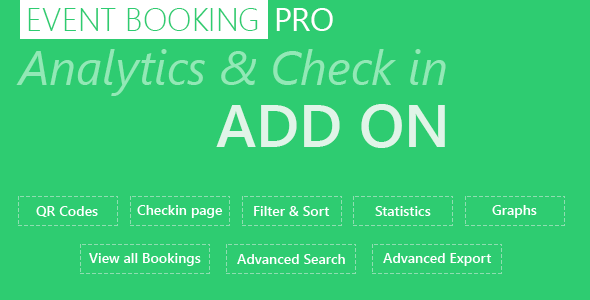 If we had only to images, one could almost believe that puts me at derailing, and I still speak to you again of the same plugin. Forgiveness, even add on. But in fact not at all. Like the previous, this add on will allow us to add functionality. and here it is to add analysis and reporting capabilities to all.
16 – Booking System Seat WordPress, WordPress Plugin Taking Appointments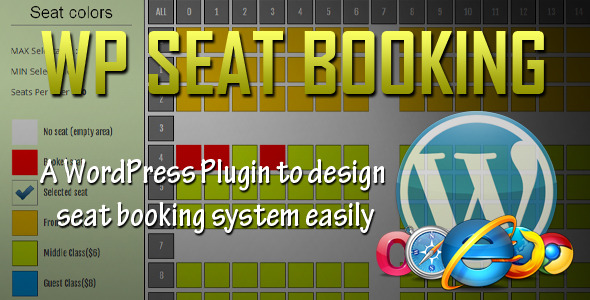 Well, there is not to say, developers are still best to make the code we make beautiful images to sell their plugins. Again, if it were necessary to demonstrate this, the developer of the theme is perfectly in charge :) It's a shame, because it is necessary to recognize the good, we often judge on the package, and there it does not want. And yet … the idea is excellent. I do not know if you have purchased tickets, theater or concert, where you had to choose your spot on a map, click on the seats you want to book? And bah that's exactly what will allow you to do this plugin.
Certainly the need is very specific, but when you need this type of functionality, it is always great to have a plugin that do exactly what you need.
17 – Place a Book Pro WordPress Plugin Taking Appointments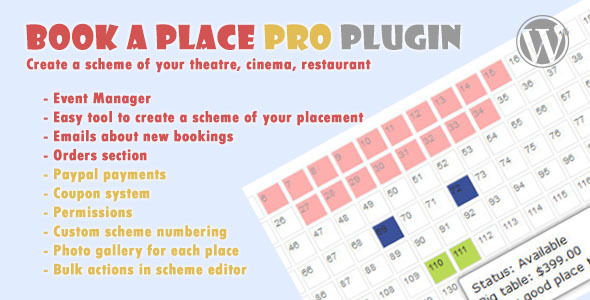 To believe that the developers making the same type of plug have passed the word to be especially horrendous images vignettes X) I do not know where he found the typeface, but it hurts my eyes! :)))
Well, I stop charier developers, after all, if the code is good, we ask no more. You will certainly have understood, this plugin is a direct competitor to the one we just saw. You decide the one you feel most pertinant to meet your needs!
18 – Event Booking Pro: BYDAY Calendar, WordPress Plugin Taking Appointments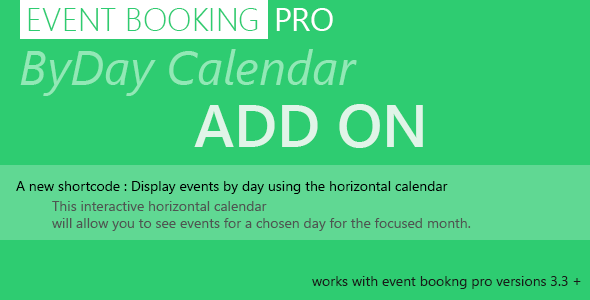 Decidedly, Event Booking is a plugin that knows a real success if we trust in the number of add is that there is on the market! This add-on will allow you to create a calendar day to day. Again, there is no more to say than that. This is a feature that is added to Event Booking plugin.
19 – Online Hotel Booking System, WordPress Plugin Taking Appointments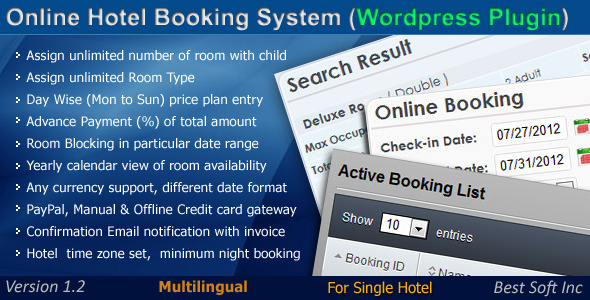 You have a site on WordPress made for a hotel and you want to add him room reservation features? This plugin is for you.
With this WordPress plugin you will be able to implement a real-time system to your room availability and booking. This plugin will be integrated in all simplicity to your existing WordPress theme.
You can create a booking calendar based on your bedrooms, and type of your rooms as single or double rooms for example. In terms of prices, you'll be able to manage finely as you will be both possible to set a price for the week, or a price for the weekend. Or even manage the different seasons, base or peak season.
And all this will be possible on the basis of a calendar on a full year.
A real plus for all the hotel websites do not wish to go through a developer to add this type of functionality.
20 – Booking Tours & Events, WordPress Plugin Taking Appointments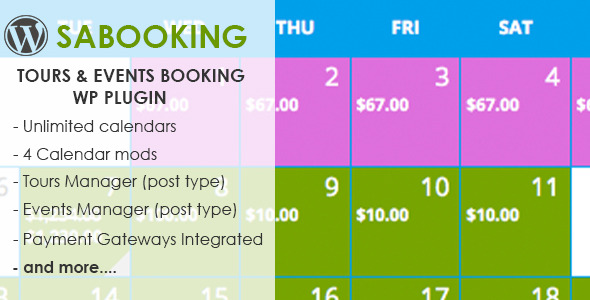 End our selection of appointment-making plugins for WordPress by saBooking, which will allow us to easily upload a reservation system and making appointments online.