20 WordPress Themes Photo
Are you a photographer, or work a lot with images, and you want to develop a website in order to exhibit your works? I think the first thing to do is to choose a good CMS and WordPress is required naturally. Why WordPress and Drupal or not Joolma? For a simple reason, its simplicity. Indeed, one reason for the great success of WordPress like I believe in many things, with great simplicity in mind, whether for installation, configuration, or its handling. And for a photographer, use a CMS that combines all these advantages is a key criterion. After all, you are not web developer, and I imagine though a part of you is interested in creating a photo website, you do not have hours to devote all days. That is why in the middle of the photo, WordPress has become the most used web platform. Another reason is just impressive number of plugins that will allow you to customize your site, so that at the functional level, it does exactly what you expect of him. If WordPress is the most logical choice to design a photo site, now you stay it will find the right WordPress theme photo, and that is the purpose of our article. I selected 20 premium photo WordPress themes to provide you with choice, and above all be able to discover the themes that we do not see everywhere. Of course, there is a good chance that you will also see some who will tell you something, because I also selected WordPress themes Photo experiencing great success. A mixture which, I hope, you will find your happiness in designing your website. Looking as a way to create multilingual WordPress site? So I advise you very strongly to use [clink id="21″ target="_blank" rel="nofollow"] WPML [/clink] The best multilingual management plugin for WordPress that I know. I use this plugin quite regularly, and I can only recommend it highly. Easy to use, powerful and advanced multilingual capabilities, support WooCommerce this plugin everything to seduce you. Download without delay [clink id="21″ target="_blank" rel="nofollow"] WPML [/clink] Look, I also use it on this website! ;) Do pardons no more time, and leave to the discovery of the 20 themes WordPress picture right away!
01 – Divi WordPress Theme Photo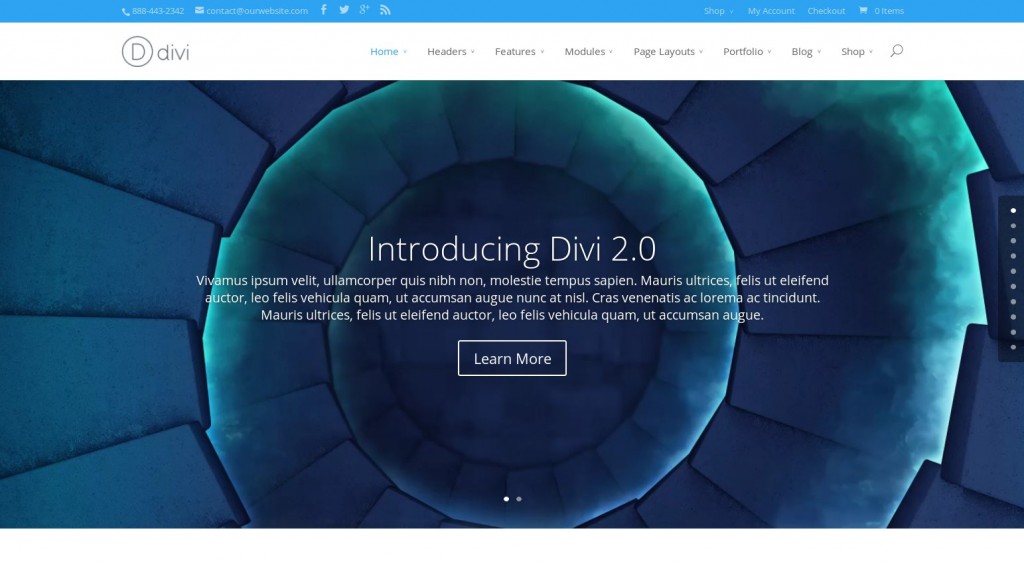 To start this selection of WordPress themes dedicated to the world of photography, I present Divi. Divi is undoubtedly one of the greatest successes of this WordPress theme developers team. Why? For this WordPress theme is both a WordPress theme picture , a WooCommerce theme, and also a versatile WordPress theme. It was developed so as to offer us the chance to do what we want. I do not say it in the air, you would see all the sites that have been conceived from this WordPress theme , you would not believe that they were all made ​​from the same theme so they can be different.
To achieve we propose a theme this flexible point very important accompanies this theme. This is what we call a page builder. If you have already had to design complex layouts with shortcodes and WordPress, then you have no doubt that this can quickly turn into a nightmare. Interface jumping, layout that does not match what we had imagined, delicacy of use shortcodes, excessive handwriting … In short, this is not always the joy, far from it. Use page builder, this is a real revolution. In fact, I must confess that for many years, I did everything by hand, not knowing that this type of page builder existed, and more importantly, I do not understand its scope. But when I discovered this tool, I wondered why I had put so much time to test it. Now it would be impossible to go back. I'm sure if you are in the same situation as me, you think the same thing.
Continue to simplify our lives is the goal of this theme. To achieve this, it also offers us several ready-made pages. There are exactly 18, enough to start working very quickly.
Of course, there is all you need in this theme for us to create a site to photographers, and even more than that. I told you that it was also a WooCommerce theme. Thus, it's even possible to sell your photos online, or your services.
02 – Expo, WordPress Theme Photo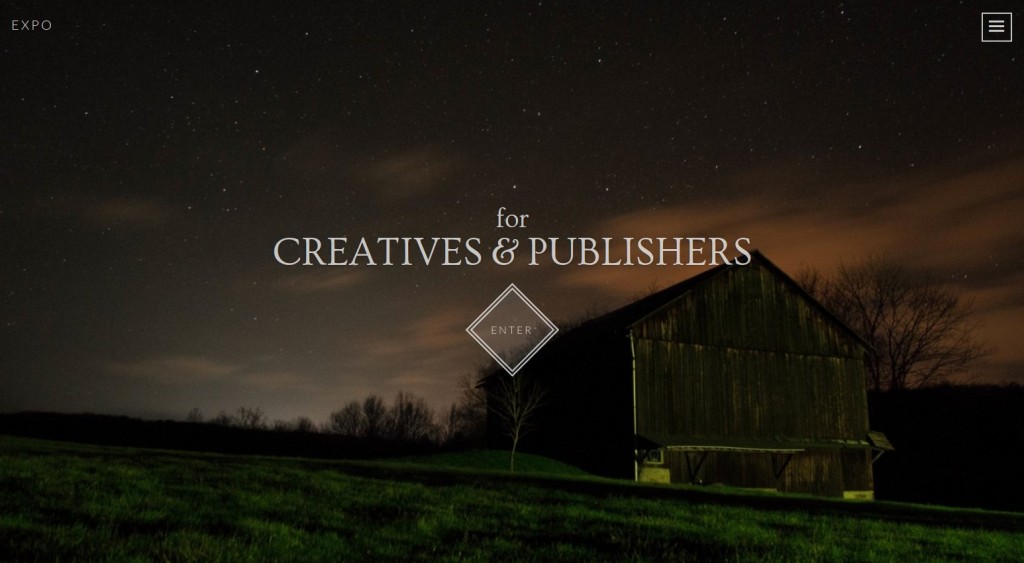 This WordPress theme picture is developed by a specialized group of designers in the creation of themes to photographers locations, it is not for nothing that at first glance, one sees immediately that we are dealing with a theme dedicated to the images put online. But what you can not do with this screenshot is the original way your users will browse your photos. Why? Because the screenshot I took of this theme is the home page. It could even be talking about homepage because that's all what will have at its disposal the user until it has not clicked is entered on the button, either on the top right menu .
Speaking of the menu, two things. The first is the form it takes. As you can see from the screenshot, it is in the form of the top right button. And do not think it will be like this only for mobile interfaces, as this is the form it takes, whatever the resolution of the screen that will connect to your website. The advantage of this kind of reduced to its simplest menu is that it allows us to clearly highlight our photos, without the menu encroaches on it. I know from experience that this type of menu can be scary. It is often said that one takes a risk from such a menu on its website, after all, all users may not understand that this is not the menu. Then two things on that. Already, you should never want to do a site for Internet users, it's just impossible. And want the hare and cabbage, we ended up having a site that is suitable for anyone. Then the icon used to style the menu is very well known and increasingly use the site. There is therefore likely that a vast majority of your visitors mastering the matter. Do not take for more stupid than they are. The second thing to say about this menu is that it works in canvas off mode. The effect is really very nice once it's open, I love because in addition it darken the photo center, so that the user focuses on. It's very well thought out.
I told you that your photos will be displayed in a conventional manner can, and that's the case, because once you get past the home page, this is a horizontal scrolling site that will offer to you. So I must say that on a computer screen, the rendering does not really transcends me. But as soon as you go through your website site from a mobile device touch, the effect is absolutely great.
Speaking of mobile interfaces, I almost forget to say that yes, this theme is perfectly responsive.
03 – Oyster, WordPress Theme Photo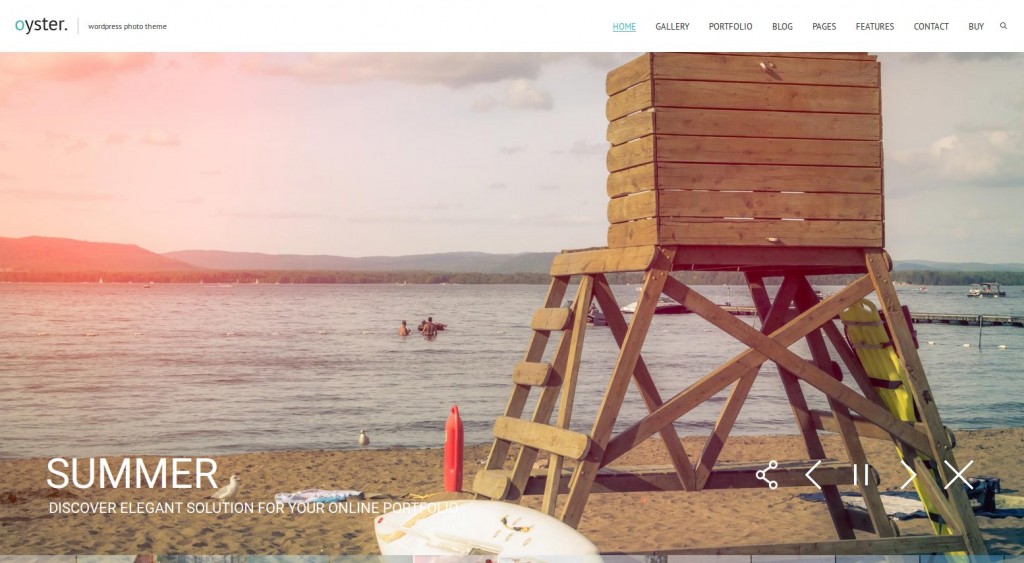 To convince you that to photographers theme can take any form, a theme designer can take two different paths. Either tell you it is possible to do everything, or you demonstrate. Oyster is the second path that has been chosen. Simply click on the button above, and go to the page describing this topic to see a collection of screenshots made from different sites using, only to realize that not a single capture screen are alike. Obviously, not all sites are presented photographer sites.
We find this theme of the features you'll especially loved for your images take all the dimension they deserve. One of them is the ability to view them in full screen. I love this type of effect when it comes to photo site, because I think full-screen provides a significant effect of immersion, and when displaying his work on his website, it is important, that the user enters immediately into the universe that want to convey the photographer. Also, your site will be both responsive and retina ready. For a photographer site, have a retina-ready website is in my opinion a very important criterion. You do not know what a retina display? This is a screen which has the double pixels per square inch. This is to have enough pixels to the human eye no longer able to see the pixelation on the screen. Or in other words, this is the type of screen where you go wow, looking at pictures above. But this effect is visible on your website, it is necessary that your theme supports it. Therefore Oyster offers this feature. See for yourself whether or not to use it.
We will also have access to a dark and light version of this theme, a portoflio wall mode or 3D mode, several different layouts for the blog and has the ability to insert videos in full screen mode . Do not forget that this WordPress theme is accompanied by [clink id="69″ target="_blank" rel="nofollow"] Revolution Slider [/clink] , One of the best premium plugins slideshows advanced management for WordPress.
04 – Origin WordPress Theme Photo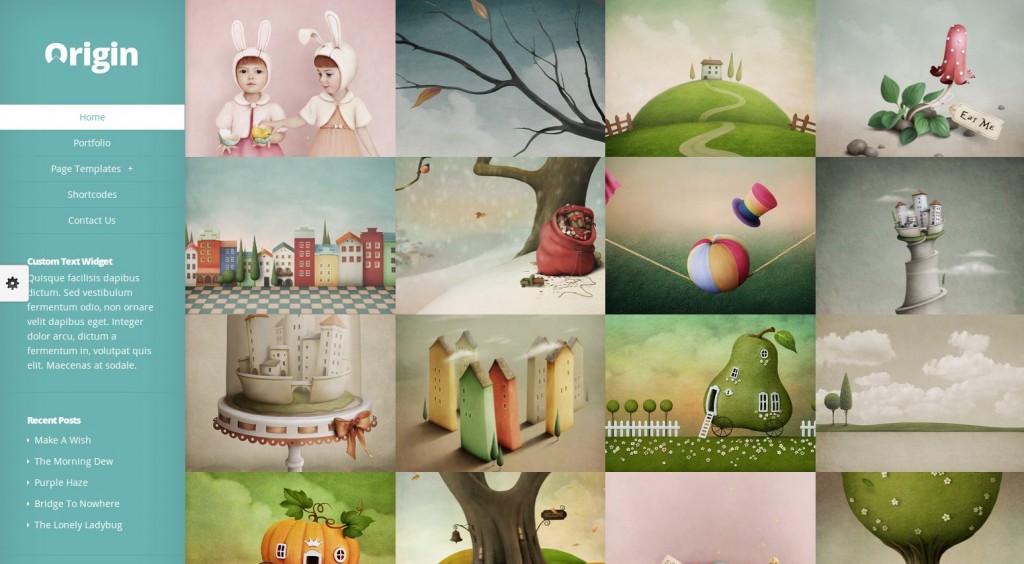 Before really talk about this subject, know that behind it lurks the same team that has conceived Divi, and you'll have access to a theme built on the same foundations, solid and versatile. This team is very well known in the mid WordPress themes, and not without reason.
Origin has a feature which can quickly realize, just by looking at capturing screen theme, which I have taken for you. In fact, the menu is positioned vertically. And that's a great idea. Why? Because with the appearance of screens 16: 9 gives it to changed to our websites. Before we had a majority of screens in a rather square format, which is why the menu is found in height, positioned vertically. But the fact that the majority of users today use displays 16: 9 that the shape is that of a rectangle. The worry is that we have more width and less height. And if it comes to position a horizontal menu, inevitably it takes up space where he has the least over the height of the screen. The format proposed by this theme, namely a right menu, and height counterbalances this issue, and allows our users to properly display the site in all its height. This is a big plus when our website is based on the image or photo. If today we still see lots of site with a horizontal menu is simply because web designers are accustomed to this layout. But that no longer corresponds to the reality of the use of internet sites. Do not be afraid to challenge this way of presenting your website. Your visitors will feel more at ease, and your images will have plenty of room to express themselves as they should.
Another thing that is obvious is that your images will be provided in the form of a grid. I really like this. In addition, it will allow this issue to be adopted both by photographers as creative agencies looking to highlight their achievements.
05 – Intra, WordPress Theme Photo
Your goal is to set up a website selling images on the web, much like istock, fotolia or Shutterstock? So I have a theme that will make you vibrate. These Intra, a WordPress theme designed by artists from WordPress theme picture.
If you read what I said a little higher, then you already know that I have presented a theme done by a team of developers whose specialty is the WordPress theme picture. I think you have already understood before I tell you so, Intra is designed and developed by the same creative team. So naturally, we will have access to a theme that puts the bar high in terms of customization because it will be possible to modify all colors, background images used to design custom menus from top to bottom, but also to choose the font that we take pleasure, or why not play on the widgets of its site.
But it is far from everything. If a design standpoint the bar is high, the functional side is no slouch, far from it. I told you that the purpose of this theme is to allow you to sell your images online, but you must understand that it will allow you to sell them either digitally or in printed form. And to achieve this, the team behind this theme has developed simply bleuffant plugins. And needless to say, all these plugins will be delivered with the theme, no need to install third-party plugin WooCommerce like for you to turn your images into ecommerce site to site.
06 – SOHO, WordPress Theme Photo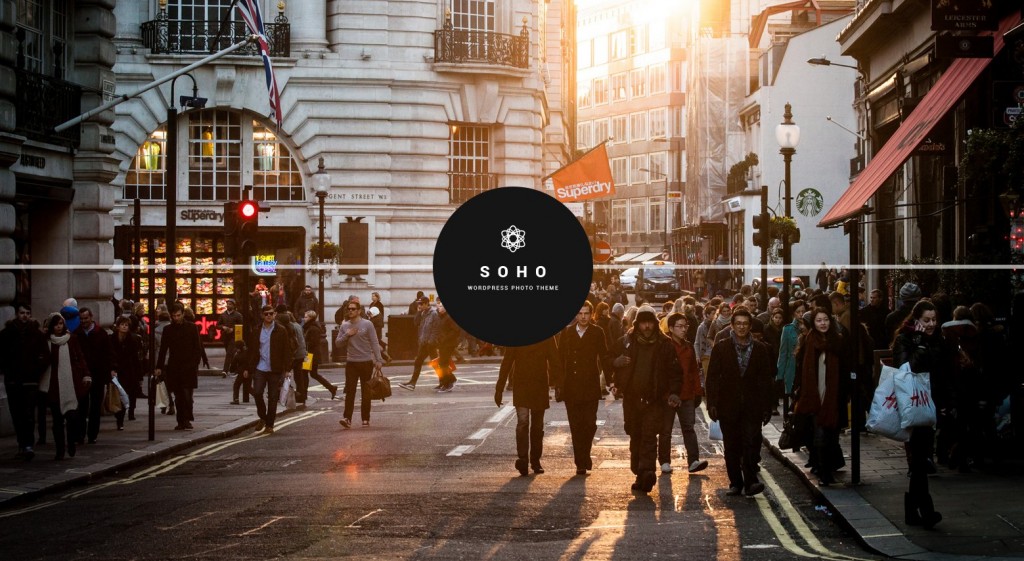 SOHO is a theme that will delight the photographers as videographers. And due, it will be possible for you to create interfaces full pages with photos or videos. The result is simply spectacular. I told you about a little earlier, I personally love being able to see our pictures and our videos in full page. I find it offers several advantages. The first is quite logical, it is able to display our photo and film in the most visible way possible. And the second is to create a sensation of instant immersion. I think it is a capital item when highlights pictures. A photograph is not a simple photo, but it is the vehicle of emotions that want to get the photographer. Allowing its users to immediately enter that world is very important.
But a full-page picture theme usually raises concerns, that of performance. For this is no longer a problem for you and your users, the developer of this WordPress theme has focused on optimized all aspects of its theme. Come discover the theme to be convinced. You will see that there is fluid and easy to use, even when the video is loaded in full screen, which is not won in advance.
As always with premium WordPress themes , there is no one way to see this theme, so it will be also allowed us to create photo albums or galleries that use a choice of a mode display a grid or with masonry effect. I very willingly confess that I have always had a preference for masonry effect, I find that this allows us to have a more lively and less rigid interface. But then it's only a matter of taste and color, you use what you prefer.
07 – Remag, WordPress Theme Photo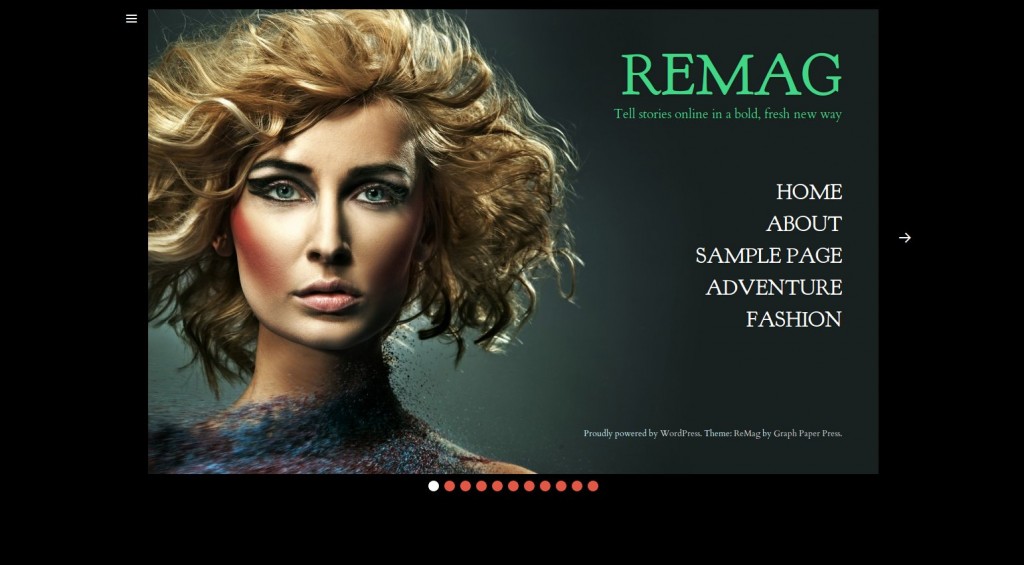 Did you like the themes photos that we presented, mainly Intra and Expo themes? Then you'll continue to be happy because again, I selected a theme from the same group of WordPress artist.
Remag is a bit confusing topic, and people looking for a WordPress theme picture not like the others, will be delighted. The common point with other themes produced by the same team is that this theme is responsive, it will be possible to customize both in the colors or the font used for the header or footer page of our site. This WordPress template also uses an advanced component for managing slideshows.
What changes with this theme, it is the way to surf it. Indeed, everything will be done horizontally, which is not really common. What have a really original site, and who will speak fully on touch interfaces.
08 – Photo, Photo WordPress Theme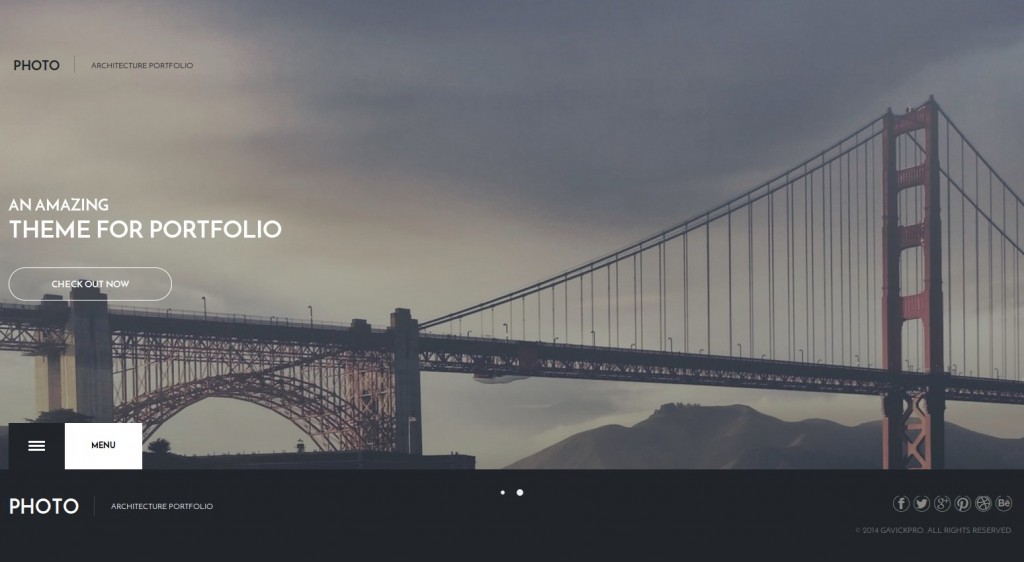 With a name like that, it would of been almost impossible not to present it in our selection of WordPress themes picture! Finally, if it had not been a theme to photographers, even with a name like that, I would not have presented. But, strange as it may seem, it is a WordPress theme picture. Weird right? ;)
Well, this theme is aimed at photographers well, there's not a shadow of a doubt when looking at the theme of capturing screen, but it was also made to allow the architects to have a beautiful site web. After all, it is true that architects must also have great photos of their projects!
Apart from its look, this theme has many features like a rendered responsive, with a menu specially designed for smartphones, or pages in reduced weight to put less time to load on mobile interfaces or the bracket a child theme. If you do not know what that implies, a child theme is essential when will wish to make changes directly in the source code of the theme, to come and add functionality. This is a big plus when we're a WordPress agency, and it is desired that the theme is not altered when the next updates will be made.
Speaking of updating, I like to read something specific property in the description of the latter. The presence of a security fix for a XSS flaw. Why? Simply because there certainly is no development that does not suffer from security vulnerabilities. Not that developers are bad, but rather that the hackers of the resource. If I like to see that this theme is of updates in this sense is that it means that it lends to great attention. One more reason to pay close attention to this WordPress theme.
09 – Gleam, WordPress Theme Photo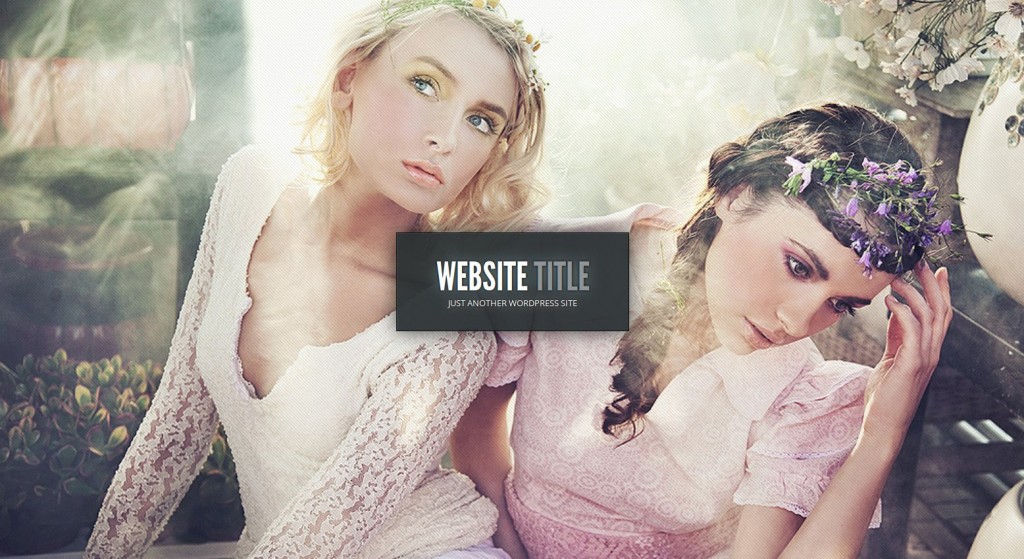 Gleam is a WordPress theme that has been around a while and is still as practical when it comes to a WordPress site for photographers. If you are a WordPress agency, this theme should be part of the themes that you have in your possession, I am certain that you will be expected to use it regularly.
In addition to allowing us to create picture-type interfaces in full screen, you will have the pleasure of having many graphics and transition effects available. In addition, this theme has other benefits such as quality support, or a very frequent update regularly a secure code and high compatibility with the largest possible number of web browsers.
It will also be noted that Ajax is the game for this theme, which will allow our users to not have to wait between each mouse click. And when you know as a user can quickly get tired of waiting and leave our site, it's even a feature that has a real interest in daily life.
10 – Snaps, WordPress Theme Photo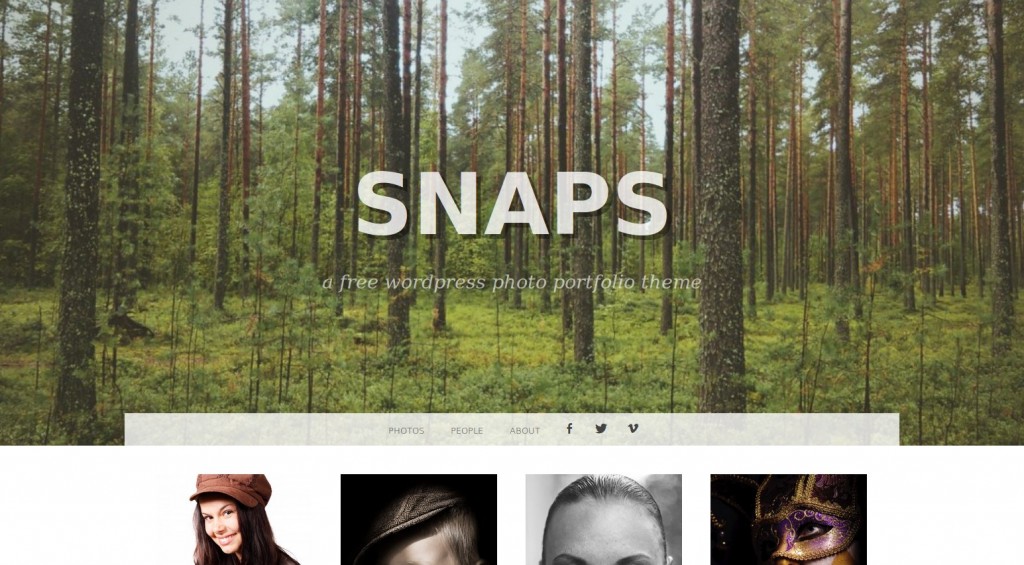 You are a photographer, but you think you will not only post photos to your blog? Have you ever heard of ticket formats? If you already use WordPress, there is a very high chance that you have already seen in your administration interface, the blog part but you have never understood what it meant. And due to these famous ticket formats has an interest for you, it is necessary that the designer of the theme you are using is set up, otherwise, this feature will not be accessible. Snaps belongs to you these themes that have the foresight to make us available and useful, this feature ticket formats. Thus, you can post different types of tickets, which will each have a different view, depending on the format you choose. With this theme, it's six different formats that are supported as the video format, image gallery or audio format. If you are going to use this type of media format, then no doubt you'll really appreciated being able to use that ticket formats.
If you want to set up a multilingual site, then you will be very pleased to learn that this theme is compatible with [clink id="21″ target="_blank" rel="nofollow"] WPML [/clink] The only true multilingual plugin for WordPress that I can recommend with confidence!
11 – Eclipse, WordPress Theme Photo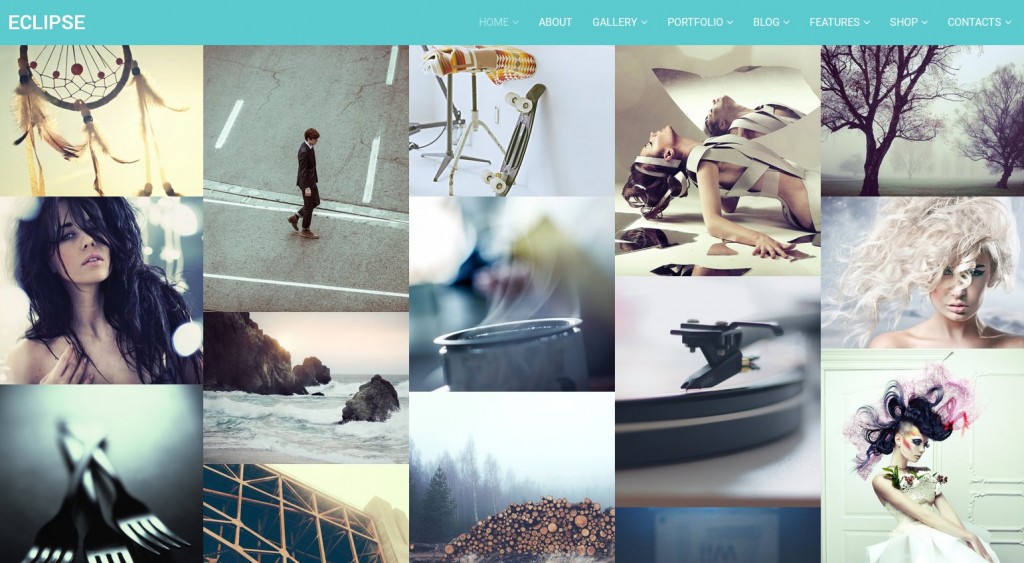 In less than a year, this plugin already recognizes a good number of downloads to its credit, and this is really very simple explanation. The first thing that can be noted is its graphical interface, which will allow us to display a video wall as soon as your users will connect to your website, as you can see in the capture screen. But what you do not see is that there is also a different layout, but that does not use the display in grid mode. This is a display of photos in vertical strips, always 100% responsive. If that does not speak too much, the best is yet to click the button above, and find out what theme and what it offers. But the customization does not end there at all. Take for example the menu, you have here the horizontal version, but it is also possible to have a vertical version. As I have said earlier, I think it is certainly the best display we can have when it comes to good showcase his images, and it is desired to take advantage of new screens.
Speaking of display, I tell you, this theme is responsive, but in addition it is retina ready. What have pictures that leave your visitors speechless.
There is also likely that if the subject knows a beautiful success is due to the fact that it supports two major plugins. The first is WooCommerce, which will allow us to transform our photo site photography sales site, draws, but also photographic service. The second supported plugin is [clink id="21″ target="_blank" rel="nofollow"] WPML [/clink] . As you know now is a plugin which I love, and I could not do without when it comes to making multilingual WordPress site.
12 – Vertex, WordPress Theme Photo
In the collection of timeless WordPress theme picture, I propose you to discover Vertex theme that knows a great success for many, many years. And the best of it, is that it is always updated! I do not know about you, but I like to have a WordPress theme I'm sure it will still be maintained for many years. What could be more terrible than having to make an update of WordPress, and realize that its theme is no longer compatible. Two solutions are available to you at that time, do not update or change the theme. And to be clear, do not update because its theme is no longer compatible, it is not an option. Indeed, regularly update WordPress is both an obligation to continue to take advantage of security updates but also have an interface that evolves over time, and which gains power every time. Given that we are currently talking about the theme for the photo, do not you do an update that permettrais you better manage your media files WordPress so your photos pretext that your theme does not support the latest version of WordPress while the famous new version could save you endless time in the daily management of your site? No, I do not think so.
So pick a theme, is also choosing a theme that we show that will be updated for many years, and this will continue.
13 – Volta Photo WordPress Theme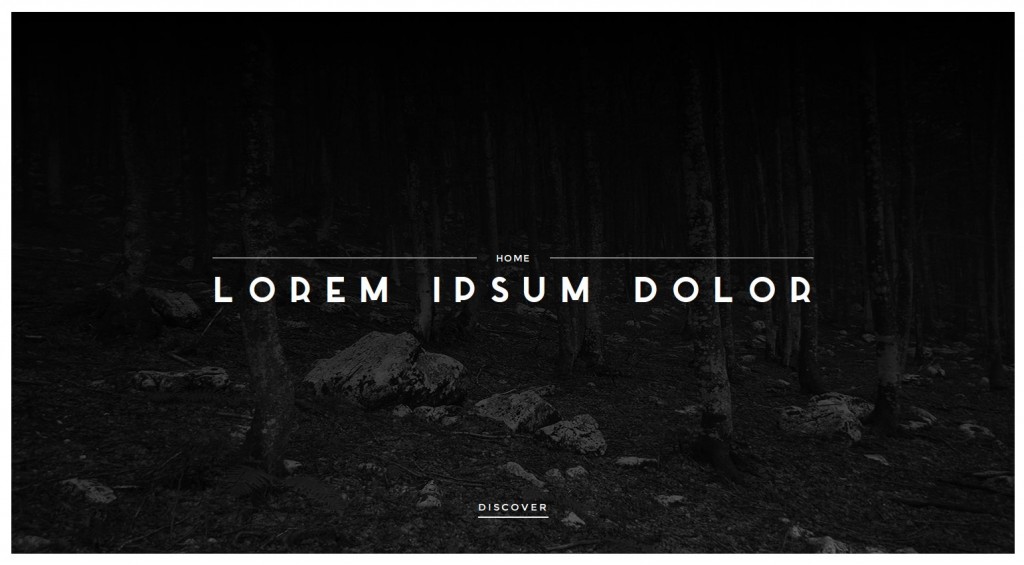 Well, if Volta is part of our selection of theme, is that this is a theme that will allow us to properly manage our photos, and many view them on our website. Capturing screen above demonstrates by itself. But if you like your theme full of little details, then you'll like. Personally, I think it is always the small details that make the difference in the end. So let's look a little closer to what we proposed this topic, and what he will be able to do for us.
First thing to note is that it would appear that invisible to most users has been done with great care. I speak here of the theme source code. If you are an agency looking for a theme you're going to customize, so that the source code is clean and optimized, it is a relief, and certainly an important selection criterion. If you are a regular user, it is no less an advantage, even if you do not necessarily go you know it. And it is there that this theme marks a good point. While most users will not realize the work it has requested, we are entitled to say what the user will be able to realize, will be done as carefully.
We also appreciate that this issue comes accompanied by support for Google Fonts and Font Awesome. If the first is well known, so you will have access to hundreds of different fonts, are Awesome is a little less known. But just a little while. Although his name just left thinking that this is a feature similar to that of Google Fonts, it is not. The purpose of Awesome do is to be a font, specializing in icons.
14 – Evoke, WordPress Theme Photo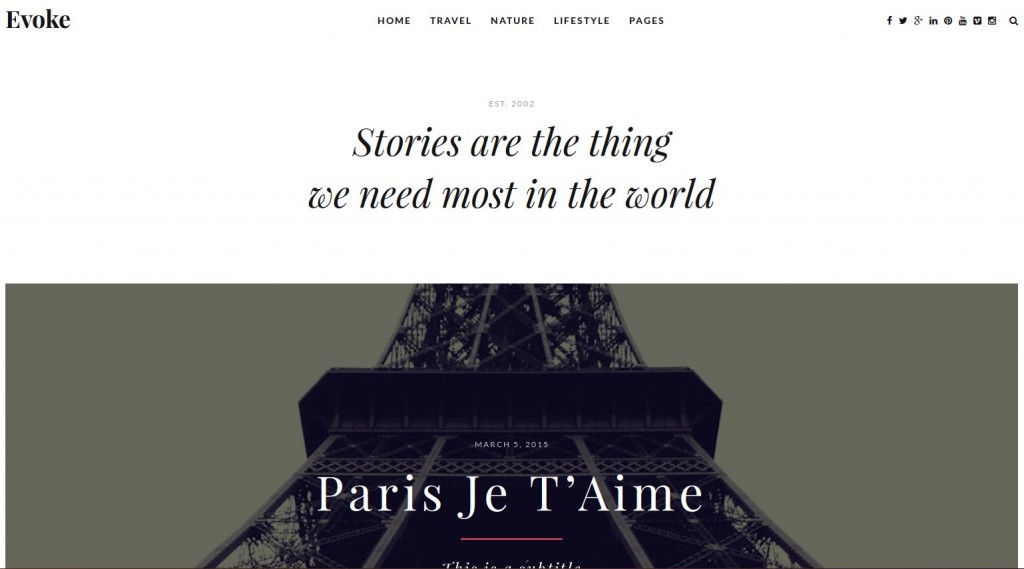 Evoke is a little different from other theme. While all themes that I present to date will allow you primarily create storefronts type sites for photographers, it will above all allow you to create a blog based on the image or photo . The idea is to make your photos a key point of your narration. This theme will be perfect both for photographers but also for all those who go take a trip. It's the perfect way to share your stories with the world.
And to perfect the purpose of this theme, everything has been done to the content is the central axis of your future blog. I love the layout of the homepage, which will use the photo on the cover of our ticket into a insert that will fit among the others, and thus create a wall effect. In addition, you can decide the picture is in horizontal mode, and thus take full width, or its format is square, to propose more per line, and while alternately. The rendering is very interesting.
It's not all because you also choose from several different layout, access to a responsive site, a simple and powerful administration interface. What have a powerful theme, and simple handling.
15 – Sideswipe, WordPress Theme Photo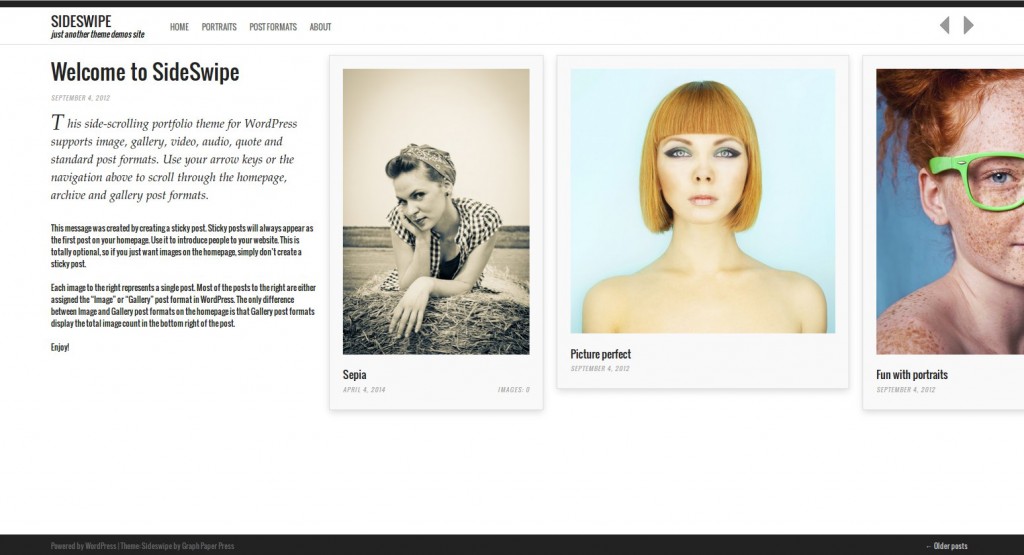 Continuing with our theme selection and go to a theme that will change the presentation of the rest of the templates I propose you to discover from the start. As you can see from the screenshot, the whole theme is in horizontal mode. Enough to provide a website that changes, and allow your visitors to remember you.
I must admit I'm not a big fan of this type of interface, because I think that from a fixed computer, it is not very easy to browse the entire site. But I also said earlier, that we should not make a website attempting to address everyone. So if your goal to be predominantly site accessed from a touch interface, I find this type of theme lends itself particularly well. Indeed, it is natural to want to go much a right site on the left, from top to bottom, when this is done directly with the hand.
Regarding the customization of this theme, it's possible to customize many aspects, from an administration interface developed specifically for this WordPress theme.
16 – VAN, WordPress Theme Photo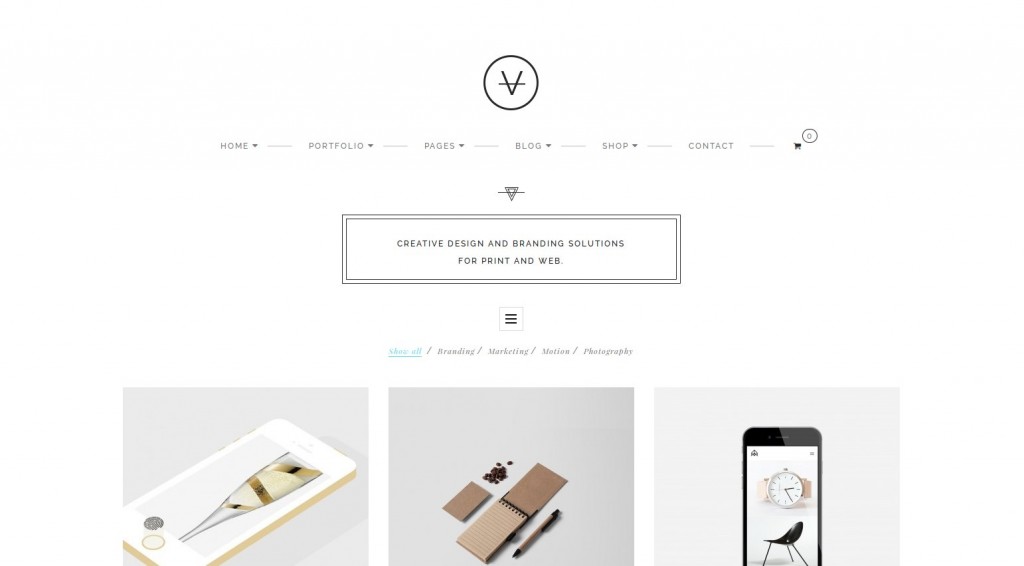 I propose, with NPV, discover the minimalist theme of our first theme selection for the photo. I must say I'm surprised you have not presented earlier. For me, the minimalist theme gives us two advantages, one of which has its importance in this type of theme selection. The first advantage, in my opinion, is the level of customization it offers. If you are a WordPress agency and you are looking for a theme to use as a development base for future incorporate a design that you will have designed, then this type of theme is perfect. Well, it is true that this benefit will not apply to everyone. Now to the second advantage, which will certainly be much more interested. A minimalist theme, so this is a theme with very little graphic design. And who says little dressing, said that the image becomes the central element of its website. You will therefore understand, be a WordPress theme picture, and besides being a minimalist theme is a real advantage!
In addition, it is also a theme WooCommerce theme. Perfect for start selling his creations, his impressions or services directly from your website. And that's not all, because you'll be able to use [clink id="22″ target="_blank" rel="nofollow"] Visual Composer [/clink] The famous page builder plugin for WordPress. This will be a savings of several tens of euros, and seamless integration of this plugin in your WordPress theme. If you do not already know this plugin, it will be an opportunity to discover such as page creation can become a breeze with WordPress, when the right tools. I am certain that after having used it, you will never want to do without.
17 – Footage, WordPress Theme Photo
A theme that has existed for several years, and continues to be updated, I say, that's a real plus. Having been launched in 2011, is a very good sign that we Footage shipments continuing to be updated regularly. What better than a theme which we have the confidence to use it for many years. For we must not deceive ourselves, even if you use WordPress and change theme is very simple, you will not do often. So why not have a theme on which we can count the years.
We easily will be pleased to be able to build a multilingual site with this theme as it supports 100% [clink id="21″ target="_blank" rel="nofollow"] WPML [/clink] , A plugin which I speak well every time the little! And if in addition you love your WordPress installation is done in multi mode, says Footage perfectly compatible with this type of installation. You do not know WordPress multisite installations? Then you're missing one of the best components in my WordPress. Just as I use very often [clink id="21″ target="_blank" rel="nofollow"] WPML [/clink] I can not do without an installation WordPress Multisite mode. This is a real plus in everyday life. And you know what? This site is also part of a multisite WordPress installation. Then ask about multi-site installations immediately and do not be intimidated, it's actually very simple to handle.
18 – Ness WordPress Theme Photo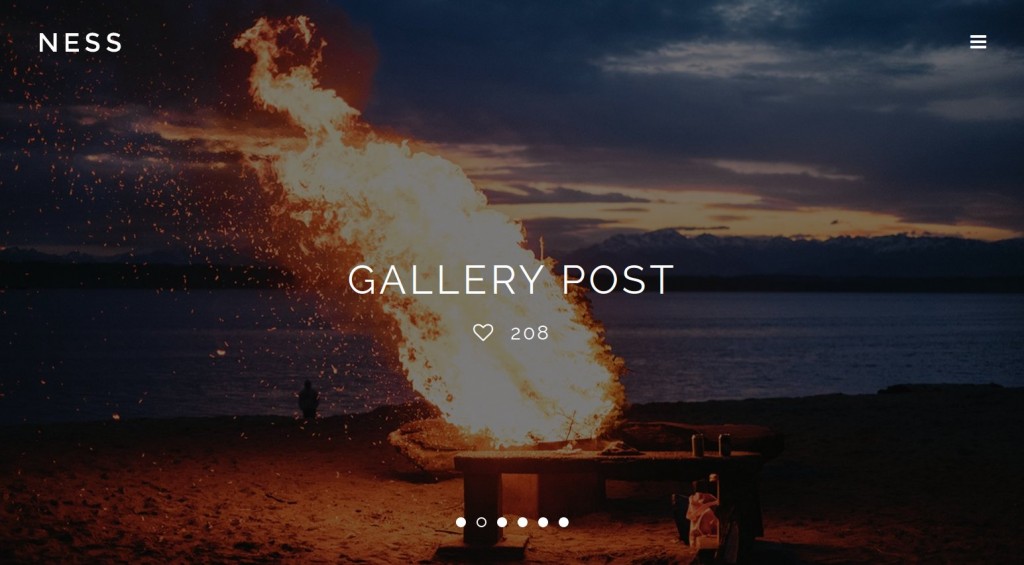 Another minimalist theme, so that's two to our counter. It does not do much, especially as I tell you truly love this type of template. As you can appreciate, minimalism is pushed to its climax here. The picture comes into its own. I would add, without a photo, the subject is no longer interested. So if you want your photos be it prevails over all, this theme is for you.
For the picture is truly the center of your site, notice how even the menu disappears in favor of the image. It will be reduced to its simplest expression, in an accessible icon on the top right of your site. It is true that a certain way, it's taking a risk. The risk that your users do not understand whether it is a menu. But to be frank, it would then never used a smartphone or tablet for not knowing that this symbol stylized menu. The concept of this same theme when everything so that the visual standards are met. What will that ultimately the risk is still very minimized.
We love that it's just the graphic that is minimalist, not the functional side of the theme. It will be possible for us to use parallax effects to compliment our photos but also use responsive to our site to be perfectly visible on mobile interfaces. Not to mention that this theme is retina ready, which will allow users with this type of screen, stop raving about our pictures.
19 – Reverzo, WordPress Theme Photo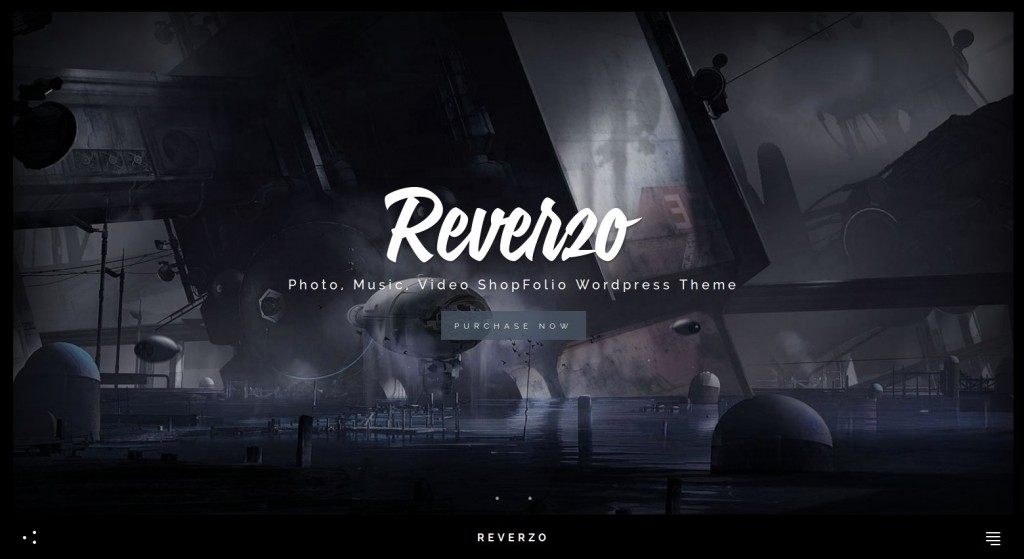 Reserzo, here in an interesting theme name. If it is called like this is that it can be used as part of the creation of different websites, such as creating a photo site, but also video or music. The concept is really nice. And it's even nicer to know that this theme will still be able to do more for us because it is a WooCommerce theme, which will let us to create an ecommerce store, with ease. Although one might think that it is this versatility that is worth him this name, this is not the case. In fact, it is named after the type of scrolling used, called reverse scrolling. I think what will ensue immediately, that is to say, but what's the reverse scrolling? I will try to explain because so visually, it can be understood in half a second, explain it is significantly more complex. To understand, one must already incorporate the fact that the entire theme is in full screen mode. Let's imagine that we are at the screenshot. You want to go down the page. So you use the mouse wheel. And instead of having a traditional scroll down, the picture is cut in two, one half of the amount, while the other half down. Thus creating a reverse scrolling effect. Here an effect that will not let your users marble.
This theme is also fall into the category of minimalist themes, offering many options like choosing between three different layouts for the blog part, the ability to upload your portfolio, the choice of two layouts for the game gallery and more.
20 – Aside, WordPress Theme Photo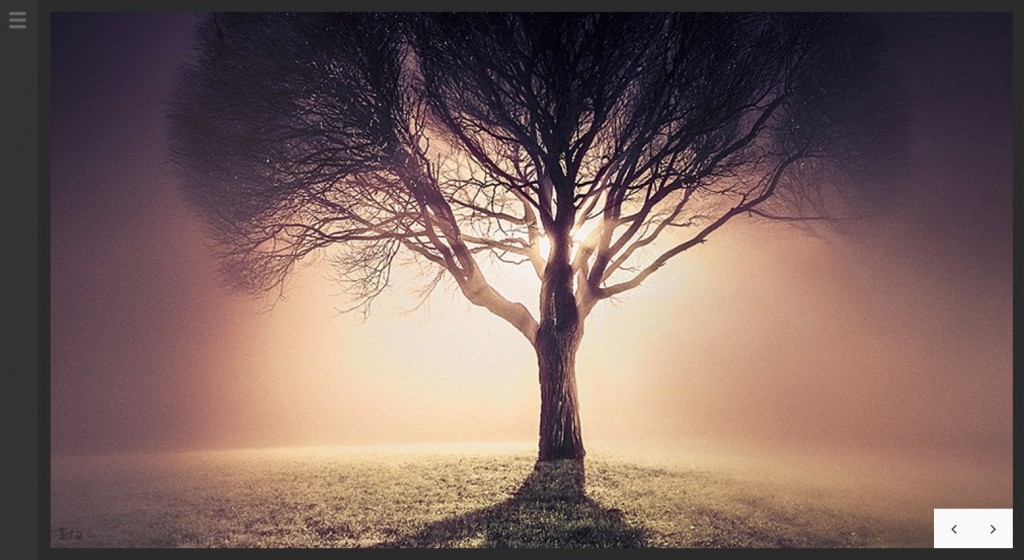 Conclude the presentation of this selection of 20 WordPress themes for a theme that really pushes far the concept of minimalist theme. If you, your photos should be the heart of your site, and that nothing else matters, then I think you will be served. As you can see from this screenshot, the designer of this theme has even pushed the cap up to remove the logo! For minimalism, that's minimalism!
As always, the features, they are honored. We will have access to a page builder, the right to a theme based on Bootstrap, the ability to use Google Fonts font character of our choice, the possibility of using the Font Awesome icons and with a 100% compatibility with [clink id="21″ target="_blank" rel="nofollow"] WPML [/clink] . We will even have the chance to have two premium plugins delivered free with our future theme, which are Slider Revolution jQuery Lightboxe and Evolution. If more I tell you that this theme is compatible with WooCommerce, while there, ca no longer in doubt, only the interface is minimalist!